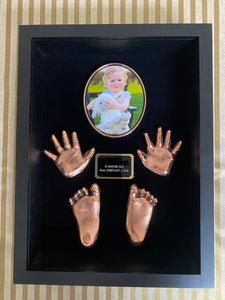 12 x 16" SOLID WOOD SHADOWBOX - PERSONALIZED PHOTO FRAME WITH BRONZE HANDPRINT AND FOOTPRINT - 4 BRONZED PIECES
Regular price $677.00 Sale
Grandmothers and grandfathers, aunts, uncles and friends, are you searching for the most meaningful and thoughtful baby shower gift? Create a one-of-a-kind artistic impression for new moms and dads to treasure as custom artwork today and a family heirloom tomorrow!
Our large shadowbox frame was designed to perfectly accent the personalized impressions of your child's handprints or footprints in bronze sculpted impressions – they're true to form because they're directly produced from a casting of your child's hands or feet!
And, this lovely set includes an oval photo frame, both hand & foot prints and an engraved plate. 
Not just for babies, our bronze sculptures are often sought at various times in life – from toddlers to teens to adults! It's a beautiful way to celebrate life and its many milestones! 
Since the 1940's, we've been hard at work creating special memories for families and they often write to tell us they still treasure the  bronze sculptures decades later! And, we hear from many who've made recent purchases and express their love for the personalized work of art that timestamps those cute little hands or feet!
The 12 x 16 inch shadowbox is available in Black, Cherry & Walnut Wood finishes and the box features a slide-out glass front and velvet backing. And, we include a brass plate engraved with your child's name, birthdate and age of casting, with optional inscription, too.
Ordering is simple - 
Select if you will be doing your impressions yourself or using a consultant - there is an additional charge to use a consultant to do your castings




Select your wood finish and type of engraved plate you prefer

Once you have ordered we will ship you a molding kit with easy to follow instructions.  Use this kit at home or take with you to your casting appointment.




Engraving - all Patty-Cakes come with an engraved plate on the back of each oval. The plate will include the childs name, age and birthdate.  There is an option to add a short additional inscription to your ovals. A list will be included in your kit. 




Simply return your impression molds to us and we will create your timeless keepsake in about 6-8 weeks. 
We offer a lifetime guarantee and are proud to serve you and your family with this truly exceptional sculptural artwork! Order today and let's create the best keepsake for your child.  They are Precious Today...Priceless Tomorrow.  
baby hand impression, baby feet, impression, Bronze hand & footprints, bronzed baby shoes, baby handprints, bronze handprints, mold