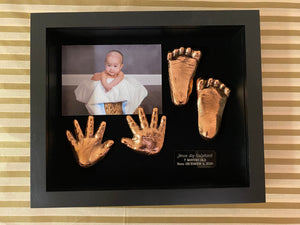 10 x 12" SOLID WOOD SHADOWBOX - PERSONALIZED BRONZE HANDPRINT & FOOTPRINT - 4 BRONZED PIECES
Regular price $608.00 Sale
To complement our original impression of one hand or foot, we introduced a small shadow box frame, sized perfectly to hold bronze handprint or footprint sculpture impressions on oval plaques! Choices include 1 impression with a matching oval photo frame or 2 or 4 impressions (no photo frame).
Capture those adorable hands and feet as a wonderful keepsake for babies, toddlers, young children, teens and adults! And, the photo option is wonderful for displaying graduation or school photos throughout childhood, from kindergarten to college graduations!
Our artistic bronze handprint or footprint sculpture wall shadowboxes make such unique and treasured baby shower gifts for new moms and dads who adore every tiny toe! They're a perfect heirloom that'll be cherished for a lifetime!
Created in 1946 to celebrate the fleeting moments in a baby's life, these bronze sculpture keepsakes have become a time-honored tradition for families. And, now many parents and grandparents wish to capture their special children's hands at various times in their childhood to marvel at and appreciate their growth. 
This secure shadowbox protects the brass impressions of handprints or footprints from dust and oil transfer from handling. Each wood shadowbox features a slide-out glass front and velvet backing.
The shadowbox frame is available in Antique Bronze, Black, Cherry & Walnut Finishes! It measures 10 x 12 inches. And, we offer a lifetime guarantee!
Shadowbox can be 2 bronzed pieces or 4 bronzed pieces w/ photo - see photos for examples. 

Select if you will be doing your impressions yourself or using a consultant - there is an additional charge to use a consultant to do your castings




Select the number of bronzed pieces, your wood finish and type of engraved plate you prefer

Once you have ordered we will ship you a molding kit with easy to follow instructions.  Use this kit at home or take with you to your casting appointment.




Engraving - all Patty-Cakes come with an engraved plate on the back of each oval. The plate will include the childs name, age and birthdate.  There is an option to add a short additional inscription to your ovals. A list will be included in your kit. 




Simply return your impression molds to us and we will create your timeless keepsake in about 6-8 weeks. 



Order quickly to preserve your child's cute hands or feet before they grow another size! Time passes quickly and soon those tiny hands will grow, so let us help you create a personalized bronze impression wall art you'll love today and tomorrow!